Monica M. Pomare: Board President
Monica M. Pomare first joined MUA's board in 2010 and has been serving as the board president since March 2019 She has been a parent, advocate and community activist for many years and is a family education coordinator for the Boston Public Schools, Parent University. She strives to educate and support families in their advocacy efforts related to their children's educational journeys, which also serves her well as MUA's board president, as many of MUA's clients have children in the Boston Public Schools . She received her B.A. from Regis College and her M.Ed. from Cambridge College.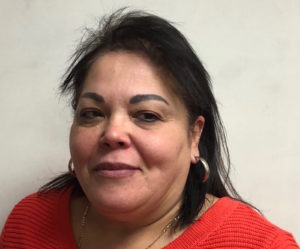 Guillermina Diaz Amaro: Officer
Guillermina has served as the President of the MUA Board of Directors for 8 years. She uses her experience at Bank of America to teach financial literacy to students. Guillermina loves seeing students receive their GED through MUA through her volunteering.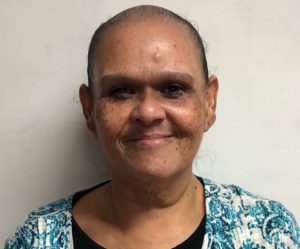 Alma Feliciano: Treasurer
Alma serves as the Treasurer of the Board and has with MUA for 6 years. Alma has introduced multiple students from Dorchester to MUA, which has assisted them in learning English and attaining their GED.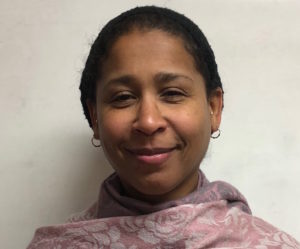 Brenda Garcia: Secretary
Brenda has served as the Secretary of the MUA Board for almost 4 years. A supervisor for the Pediatrics and Adolescent Department at Boston's Children's Hospital, she has several years of experience working with young people in the Dorchester area.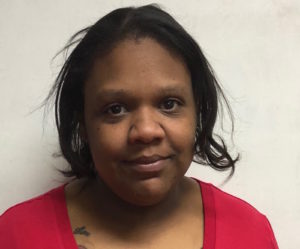 Natasha Sierra: Officer
Natasha, a student of MUA, has been on the MUA Board for 3 years alongside her twin sister, Keara. Throughout her time as a student and board member, Natasha has been very involved in training to become a home health aide.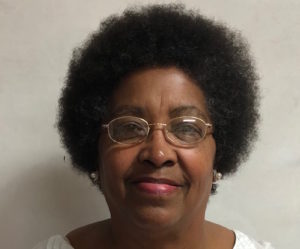 Azela Osorio: Officer
Azela, "Celita", has served as an officer on the board since 2011 alongside her daughter, Brenda.
---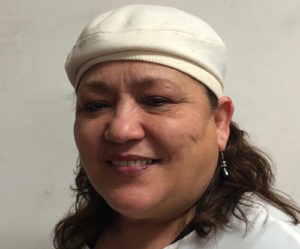 Zoila Diaz: Co-Director & Board Liaison
Zoila Diaz, who has worked with MUA since 1993, is one of the three co-directors of the organization. Zoila works with the board on monitoring social services, staff, and relationships with external agencies. Additionally, Zoila oversees preschool child care, domestic violence support groups, and coordinates referrals to outside services.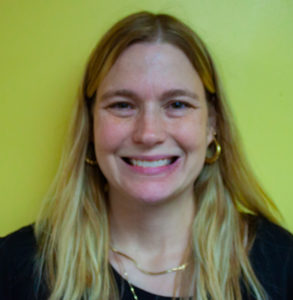 Johannah Malone: Co-Director
Johannah Malone joined MUA's staff in 2000, and as co-director has nearly 20 years experience in fundraising/program development. She has an MA in Applied Linguistics from UMASS/Boston with a concentration in ESOL. During her nearly 20 years at MUA, she has developed curriculum and workforce training programs and helped to nearly double the size of the agency's staffing to serve the Latina community. She has raised $800,000 out of $1M needed for MUA's capital campaign.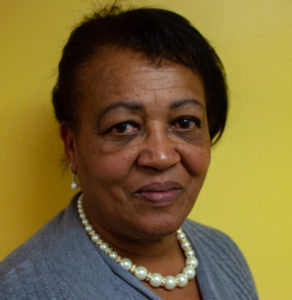 Maria Andrade: Co-Director
Maria Andrade has worked for MUA since 1987. She was a former student and emigrated from Cape Verde when she was in her early 20s. In addition to being co-director, she is the fiscal staff person and has overseen the student database system for the past 15 years. She also oversees the technology and High School Equivalency (HiSET) departments.
Maria holds a degree from Roxbury Community College in business administration with a focus on accounting. She also took a non-profit management certification program offered by the Latino Institute/Suffolk University. Maria speaks four languages-English, Spanish, Cape Verdean Creole, and Portuguese.
---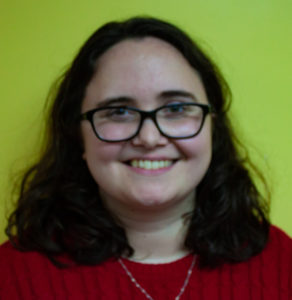 Caitie Shalvey: Lead ESOL Instructor and Outreach Coordinator
Caitie Shalvey is the Lead ESOL Teacher at MUA. She loves working at an organization that encourages women of all backgrounds to reach their fullest potential, while at the same time providing a safe "home" and a caring community for those that are new to this country.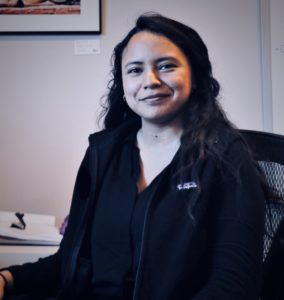 Marlene Rojas: ESOL Instructor
Marlene is a former French language teacher in Mexico and is now an ESOL instructor at MUA. Besides teaching, she is an AmeriCorps member of a non-profit organization that provides legal services for immigrant populations. She has worked with these communities in different states in the country. As an immigrant herself, she feels connected to MUA's community.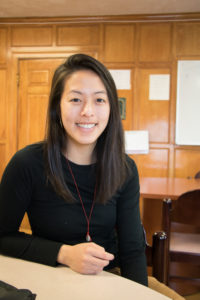 Rachel Hu: ESOL Instructor and Career Coach
Rachel received her degree at the University of California Berkeley, and has been teaching ESOL since 2014. Additionally, she loves learning and facilitating dialogue about language and culture. She considers it a privilege to serve and get to know this community of women.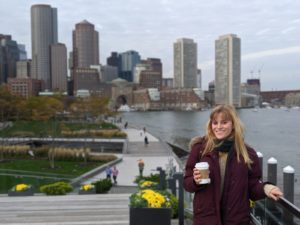 Jenna Brooks, ESOL Instructor
Jenna studied International Relations and Anthropology at University of St Andrews in Scotland. She is passionate about working with people of different cultures and languages and sees the classroom as a unique space for intercultural dialogue. Prior to working at MUA, Jenna volunteered with Syrian refugees in Istanbul as an English assistant and also served as an Americorps member English for Speakers of Other Languages (ESOL) instructor. She is also a yoga teacher hoping to expand access to yoga in refugee and immigrant communities.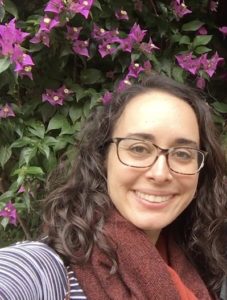 Mary Garcia, ESOL Instructor & Career Coach
Mary Garcia is a Massachusetts native who received her degree in Teaching English to Speakers of Other Languages (TESOL) from Salem State University. She has been privileged to teach ESOL in the Boston area since 2015. Mary is grateful to be joining this community of strong women at MUA and teaching and learning alongside them.
---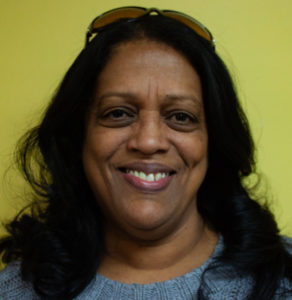 Maritza Garcia Soto: HiSET Instructor
Martiza has 33 years of experience as a teacher. She has been living in Boston for six years and teaches upper-level HiSET courses at MUA. Her expertise includes the teaching of science, social studies, mathematics, grammar, and reading, for the K-12 population and adults. Maritza sees MUA not only as a school but as a support center for all women. There is an atmosphere of camaraderie and solidarity, which is such a motivator for students as well as staff.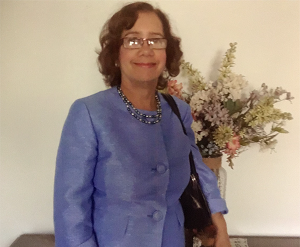 Arelis Gutierrez Piña, HiSET Instructor
Arelis Gutierrez has more than 35 years of teaching experience in elementary school, high school, and adult education. She was a coordinator of psychopedagogy in the Regional Directorate of Education in the Dominican Republic. Arelis also majored in psychopedagogy at INTEC University and has a Bachelor of Psychology from the Dominican World University. She obtained a Master's Degree in Education in the Training of Trainers at the University of Barcelona.
One of Arelis' goals in the classroom through her teaching at MUA is create an environment of respect, caring, and collaborative learning. She enjoys every step of her students' improvement as they pass exams in science, social studies, mathematics, reading, and writing to obtain their HiSET certificates.
---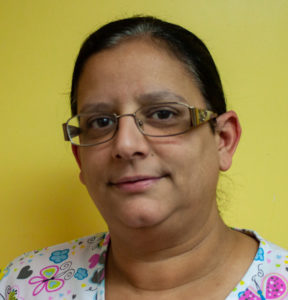 Candida Baez: Intake and Receptionist
Candida Baez is from the Dominican Republic and comes from a large family of five brothers. She is the only daughter! She came to the United States in 1991. She is a proud mother and grandmother. Candida started as a student and progressed through the HiSET and ESOL courses. She joined the staff nearly a decade ago and has worked as a low-level HiSET instructor. She also has worked in the pre-school child care, reception, and data entry department. She has taken extensive coursework to train as an adult educator and as a mother herself is grateful to God that MUA exists to assist so many mothers in need to empower themselves.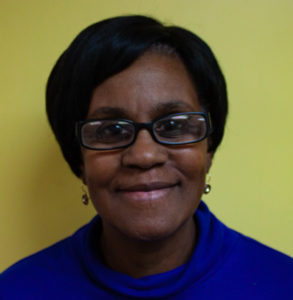 Bonnie Rivers: Technology Instructor and Tech Support
Her experience includes over 25+ years in the computer field in computer technical and problem resolution for a large corporation, which included being a trainer of peer support. She really enjoys teaching at MUA because a non-profit is a dynamic environment in which to work with and engage the students on a more personal level, to see their eagerness to learn new things and to succeed.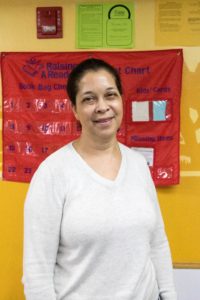 Regla Terrero: Early Childhood Assistant
Regla emigrated to the US from the Dominican Republic in 1995. In her native country, she obtained a degree in accounting and an authorized public accounting certification. She also joined the national army.
Regla was a student of MUA in 2006 and completed coursework in English and computers. She gave back by volunteering and joined the team as an early childhood assistant. Regla is passionate about helping toddlers and pre-schoolers develop their language, pre-literacy, mathematics, and socialization skills at MUA. She has taken additional coursework at Roxbury Community College and is presently enrolled in an English course.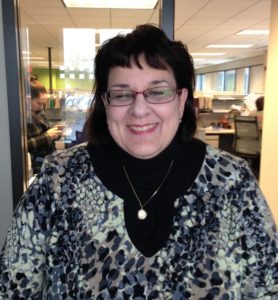 AnnMarie Cuff: Phlebotomy Instructor
AnnMarie is a registered nurse with a diverse background. She has taken courses in certified medical technician and phlebotomy. She has taught and managed fellow healthcare workers throughout her career. She also has worked as a medical technician, massage therapist, and emergency medical technician.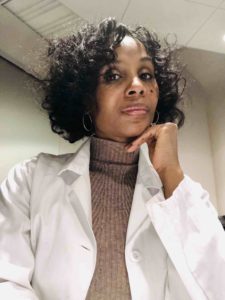 Hannah Clemendore:  Clinical Medical Assistant Instructor
Hannah, Trinidadian born and raised, is now a proud US citizen. Hannah's 25-year career has included working as a medical assistant, lab technician, and laboratory supervisor.  For the past two years, she has been training medical assistants, cardio-phlebotomy technicians, and phlebotomists. She currently teaches the Clinical Medical Assistant (CMA) program at MUA.  It is fulfilling and gratifying for her to help enthusiastic learners to launch careers in the medical field.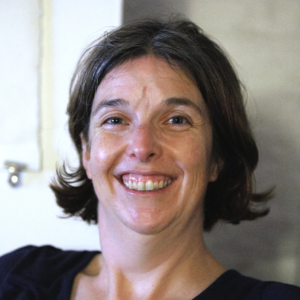 Lauren Butler, Career Coach and Night Program Coordinator
Lauren has worked in the non-profit and education sector for 20 years. She is thrilled to be part of the team at MUA where she can use her knowledge of higher education and community programs to help students maximize their potential.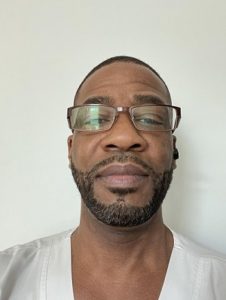 Westley Ellis, Home Health Aide Instructor
Westley Ellis, has been a Home Health Aide (HHA) instructor at MUA since 2017. Outside of MUA he is a medical assistant and supportive housing coordinator for a long-term facility. His driving mission is to prepare women to provide all-inclusive care to the elderly and disabled. He is also currently attending school at Northeastern University for pre-med.