Maria Bello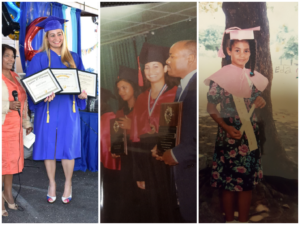 Maria Bello still thinks about a spelling error that wound up costing her the opportunity to go to a university in the Dominican Republic, the country where she was born and raised.
"I graduated with honors," said Bello. "I even have a plaque the school gave me because my grades were so good."
But despite her and her husband (boyfriend at the time) hiring three different attorneys to try to overcome the spelling error preventing her from getting this degree, it was no use. Bello would have to find her way in the world without her high school diploma even though she had done all of the coursework to earn it.
During this time, Bello's husband was working in America and eventually became a citizen. In the time since they have had three children and have relocated to Boston, MA, where Bello has found employment as a waitress at Naberete Restaurant, and a new opportunity with MUA.
"I found out about MUA when people at my job told me about it," said Bello. "They told me that there is a school where you can get a GED and I was very interested in that. Coming here was helpful for me because I got my GED in three months."
This is all part of a goal Bello has had since she was unable to get her high school diploma.
"I want to be able to study business administration," said Bello. "I was asking about this career but it is so expensive to study, so I put that goal on hold for now."
However, MUA has provided Bello with not only the opportunity to receive her GED but also with the opportunity to take a phlebotomy course, which she hopes can lead her to a job that will help pay for the business degree she is hoping to get.
"MUA has a very good staff and they help you to improve yourself," said Bello. "They help you achieve your goals. They have great people."
While her work and education schedule take up a lot of her time, Bello does find some time to spend with her family.
"I enjoy time with family doing something that is not work or school-related," said Bello. "It is so important for me to get that time. Usually, on Saturday, we go to the Church and the week we only have time at night."
Bello's children play a big role in her motivation.
"I want to be an example for them," said Bello. "Show them if you study and you do your duties you can achieve your dreams."
Ligia Sierra
Since coming to Boston, MA in 1992 from the Dominican Republic, Ligia Sierra has gone through each day with the same mindset.
"I don't ever stop. Never," said Sierra.
This is in reference to the work she has done in the time since, whether it be parenting, studying at MUA, or working her job cleaning office buildings. She has a son and a grandson with her in Boston, MA, and tries to see them during the little free time she has.
Sierra's day begins at 9 a.m. with her studies at MUA and ends with her job, which usually takes her into the late hours at night and sometimes early hours of the morning. But those late nights have not stopped her from taking courses at MUA, which she says has been one of her best experiences since coming to Boston.
"I was looking for a Spanish class and for a GED and they also offered an English class and I got in," said Sierra. "These are good professors, good teachers, and a good school. The people and students are great and a lot like a family."
Sierra's ultimate goal is to get her GED certificate, a goal she says MUA has helped her with immensely by being very accommodating to her work schedule. Something she says the organization has also worked to do for others who work a different schedule than her.
"The classes were only in the morning, but now there are night classes too." explained Sierra.
This she says was to help students who have either jobs or children to take care of during the day. It has helped expand the program for future students.
Sierra is currently taking both an English and Computer class, which she is hoping will help her in the future with work and day-to-day interactions.
"Being a student gets you a better job, and you will be better in conversations with others," said Sierra. "I'm looking for a better job when I finish my class."
She credits MUA with helping her gain these skills that she says will give her the ability to learn even more in the future and help her find a new job. She enjoys talking about the work MUA has done for her over the years, but she, unfortunately, has to end our conversation a little early.
She explains to me that her shift at her job begins shortly.
"Like I said, never stop," she happily said. 
Esmerelda
"I came to this country with my family. We lived in New York. I got married before I got my high school diploma. My husband and I moved to Boston where I tried to enroll in a school to finish high school. I could not find the right program so I decided to look for a job. I was pregnant and I could not continue working because I didn't want to lose my baby. After she was born, I heard about Mujeres Unidas' program. This program provided me the educational services I was looking for. I had at MUA the opportunity to enroll in the English program as well as becoming a part of other programs where I could develop computer skills. Also, through this organization I got information about college programs in the community. Today, I am in the Infant Psychology Program at Bunker Hill Community College. My goal for the future is to be a bilingual psychologist."
Mitchelle Mathias
Mitchelle Mathias always loved reading, and it is this hobby that played a great part in her journey from Haiti to Boston, MA.
"I love reading the medical books and the bible and really anything with medicine," said Mathias. "I studied medicine in Cuba, but here, to practice to become a doctor, you have to pass all of the tests that I've been studying for."
Mathias first came to Boston two years ago after being born and raised in Haiti and spending six years in Cuba, where she first began her studies in medicine. She is a single mother who finds motivation in the hardships she has seen others endure.
"I like helping people, especially people who don't have much money who suffer and really need the help. It is (where) a lot of my motivation comes from," said Mathias.
She was able to see firsthand the value of providing help to people during her time studying at MUA, where she learned to speak English along with advancing her medical studies with courses like phlebotomy.
"When I came here I was looking for a school and a friend told me about MUA," said Mathias. "When I came here, I passed the assessment and then they called me and I entered the community. They really help you grow. I learned English here and I'm still taking some classes."
Mathias is now on her way to achieving her lifelong goal of getting her license to become a medical doctor. She credits the assistance she received from MUA for her advancement, along with helping her integrate into the community.
"They [MUA] give you assistance for housing and they will help you with your resume and lots of other stuff if you need it," said Mathias.
Because of all the help she received from MUA, Mathias now volunteers for the organization, helping others whoare entering the program and starting out in a new community– just as she did two years ago.
After our discussion, Mathias finished up a long day of coursework and volunteering. She looks tired, but smiles and says, "Yes, now I can go home and read some more." 
Maria
"I do not know where to begin to thank MUA for all they have helped me. They help me with transportation and the counselor helped me find an apartment. I connected to resources in the Boston Public School to get support for my daughter's learning disability. I want to continue the dental assistant classes that I started in the Dominican Republic. My English teacher at MUA showed me how to find some schools online and I am filling out the paperwork. I have my work cut out for me as a single parent but Mujeres has taught me confidence and self-esteem. I will do it, no matter how long it takes."
Mariana
"I dropped out of high school at the age of 14 as I was pregnant with a little boy. At 16, I first learned about MUA through my friend, who was preparing for her High School Equivalency through MUA's program. I enrolled in the classes as my mother could watch my baby. I was able to change my schedule to work nights and weekends and also enrolled in the basic computer class. My son, now age 2, attends MUA's child care and is making strides in mastering his colors, numbers, and letters in both English and Spanish. I hope to get my High School Equivalency this year and I want to enroll in Roxbury Community College (RCC) to study nursing."
Sandra Taveres 
Years ago, Sandra Tavares had an experience in Boston, MA, her new home at the time, which she will never forget.
"I remember I went to the hospital and I couldn't speak any English with the doctor," said Tavares. "I said no, no, no, this is not going to work. I need to speak English so I don't need to ask others for help."
Tavares came to Boston 10 years ago with her family from Cape Verde. Since moving here, she has had two children with her husband and has worked tirelessly to learn English along with other skills, using her experience at the hospital as a constant motivation.
Tavares found her stride in learning English at MUA along with other skills.
"I'm happy I found this school because they really help students here a lot," said Tavares. "Whatever you need they help you. I told my friend that I feel MUA is my second home. This is a very good school. And also, they are very good teachers."
More than once throughout our discussion, she checked to make sure I could understand her. I assured her that her English is great.
"I've learned a lot here," said Tavares. "Like how to speak English, how to use verbs correctly. I've improved my English a lot."
She is very happy with the education she has gotten at MUA, and not just with her language courses.
"I just started a computer class last month and the professor is very good," said Tavares. "If I get the opportunity to take the phlebotomy course I will, but I really would like to focus on business."
Tavares went on to explain that her brother and his friend are trying to start a medicine company and that she would like to work for their business after getting her education.
"MUA has helped me so much in the last two years. I'd like to have a better education so I can find a better job and improve myself," said Tavares. "I want to work as a businesswoman."
Tavares does all of this on top of taking care of her daughter and son. When she is not at MUA she reads to her kids and teaches them how to cook. Her daughter is in school and learning how to speak English as well. Her son is younger, and she is able to bring him to MUA's daycare that they have on site.
Arlinedelix
"My name is Arlinedelix. I was born in Puerto Rico. I cam with my family to live in Boston when I was eleven years old. I studied at Boston High School until eleventh grade, until I dropped out because I wanted to get a job. I tried to enroll in a EDP program, but I was not motivated enough to study. Later, I got married and had two children.
Years later, I started looking for a school to finish high school, but I live in Brockton, where there is no Spanish Hi-SET program. When my younger son was three years old, my sister in law told me about MUA. I thought it was the time to continue with my education. I enrolled in the Spanish Hi-SET program and in the ESL Career and Computer Skills program. Both programs were very useful because I could enhance the quality of my native language, improve my English reading and writing skills, and develop computer skills. Now, I am looking to enroll in nursing school. I feel I am a better mother because I can help my children with their homework and encourage them to be bilingual."
Miriam 
"I visited Bunker Hill and Roxbury Community College this year and hope to enroll one or two semesters from now. My dream is to work as a medical assistant in a health clinic and also to do interpreting for Spanish speakers. Knowing English and obtaining my Hi-SET will make this dream a reality. I still need to work on my English and I know I have to work on my depression and self- esteem, but every day Mujeres Unidas brings me closer to my goals. Thanks MUA!"
Katherinee Soto
In December 2014, Katherinee Soto, born and raised in the Dominican Republic, relocated to join most of her family in Boston, MA.
Much of her family had moved in the past couple years and Soto decided it was time for her and her two children to do the same. It was not long after relocating when she discovered MUA.
"I found out about MUA in 2016," said Soto. "My aunt and friends spoke about how good the school was. They were all students here too."
Soto would soon find out for herself of how helpful MUA would be, as she now has nothing but great things to say about all of the skills she has learned in her time with the organization.
"I took the computer class and English level one and two," said Soto. "I've also learned about child care and home care for (elderly people). My goal is to speak more English and I want to get a better job. I really want to study at a university."
Soto attended university in the Dominican Republic, where she studied accounting and finance which are the studies she hopes to continue in the US. She credits MUA with helping prepare her to go to a university in the US.
She has also recently become a citizen but has not had time just yet to celebrate as her studies have kept her busy in the past few weeks. She spends most of her free time with her kids and also loves to dance as well.
"I love dancing, to all music," she said. "I have danced for a long time."
While she has not been able to find the time recently to enjoy this hobby, on October 30th she managed to find the time.
"That is the day I became a citizen," she happily said. "So yes, I danced a lot."